A note from your President introducing our New Board of Directors 2017-2018
Greetings to all our fabulous DC Road Runners Club members.  May 1st was the start of the new term of our board of directors as elected at our annual meeting on March 5. The term runs from May 1, 2017 - April 30, 2018.  We had two vacant positions at the time of the election in March.  Per our bylaws, and as President, I am able to appoint capable and interested people to the roles at any time after the vote.  As such, we are lucky enough to have Paul Westcott back to fill the role of VP of Races and Christine Westcott will fill the role of Director for Race Operations.  Addtionally, the role of VP of Training was filled by Zach Stone.  Zach is now moving out of the area which vacated the position.  I have appointed Jonny Pellish as our VP of Training.  Jonny has been one of our fabulous coaches in the program and he will focus exclusively on the marathon training program.  Carl Ford will focus on the Half Marathon and Ten Mile Training programs.  
Again, I would like to thank all our returning and new board members for their service this next year. Please see the complete list below.  I would also again like to thank our outgoing board members for their service and for some, over many years; Dylan Barlett, Alison Smith, Miguel Cuya, Kathy Pugh, Kate Magee and Chris Johnston.  It is always a pleasure to work beside indivduals with the common goal of serving our club members and running communities. Please join me in thanking all and welcoming our new board.
President - Ben Richter
VP of Operations - Miguel Matta
Treasurer - Bas Auer
Secretary - Eunja Rau
Webmaster - Vitaliy Pavlyuk
VP of Races - open
Director of Race Operations - open
Director of Contract Races - open
VP of Training - Jonny Pellish
Director for Training Programs - Carl Ford
Director for Training Initiatives - Mike Tosto
Membership Director - Deborah Margraff
Volunteer Coordinator - Delna Clark
Director for Community Outreach -Anne Coia
Rich Mendelowitz, President
Rich joined up with DCRRC in 2010.  He is a regular at Saturday long runs (SLR), a coach for the clubs Thursday morning track program and he leads the clubs Monday morning 10M group run.
Rich grew up in New York City and went to the University of Michigan where he picked up a love for running.  He ran his first race in 1979 and has run hundreds since.  With 13 marathons under his belt the highlight of his running career remains qualifying for and completing the Boston Marathon in 1989.
Rich and his family love fun vacation adventures.  He is also a Boy Scout leader who enjoys high adventure outings of all kinds.   By day Rich works for General Dynamics IT and is their Chief Technology Officer. He is an avid sports fan and sports trivia nut and of course a die-hard Michigan football and basketball fan.
Miguel Matta, VP of Operations
Miguel
joined
DC Road Runners in 2014 and is a regular at
Saturday
Long Runs (SLR) and club races. He has been running on and off since high school.
When he's not running or working as an engineer, he is busy with Brazilian Jiu Jitsu, hiking, biking or spending his time outdoors.
Ben Richter, Treasurer
Ben (E-mail) started running winter track in high school as a way to avoid wrestling class, and has been on the roads ever since.
He has completed over 50 marathons, including Boston, Honolulu, New York City, Marine Corps, Kilauea Volcano Trails, Big Sur and Austin.
Shortly after moving to D.C. in autumn 1999, he began regular participation in the Saturday Long Run and credits it for getting him to Boston.
Ben has directed the Larry Noel Greenbelt 15K Race since 2005 and has been a sub-group coach with the club's Marathon Training Program for several years.
Eunja Rau, Secretary
Raj Bhanot, Director of Information Technology/Webmaster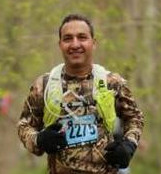 Raj (Athlinks) joined up with DCRRC in 2010. He is regular to club races. The 2004 Marine Corp Marathon was his first marathon, since then he has ran over 65 marathon and ultras. Raj is RRCA certified coach.
When he's not running or working as a data warehouse architect, he loves yoga, biking, outdoors, watching sports, dance and listening to Indian music.
Paul Westcott, Vice President (Races)
Paul (E-Mail) and his wife Christine joined DC Road Runners in 2010 as participants in the Fall Marathon Training program. They both enjoyed the club members and club activites so much that they have been regulars ever since.
Paul grew up in Lockport, New York. His true athletic passion was baseball but was always a runner on the side. After high school Paul served 5 years in the Air Force. Upon departing the service he acheived his Electrical and Computer Engineering degree from the State University of New York at Buffalo. He now works as an engineer at a defense contractor here in Northern Virginia.
Brian Danza, Director of Contract Races
Brian (Athlinks, E-Mail) joined DC Road Runners in the spring of 2007 with the hope of overcoming his inherent lack of long distance running talent, and to train for the 2007 New York Marathon.
He quickly became involved in many club activities including being a regular presence at Saturday Long Runs and Wednesday Track Workouts, as well as volunteering at many races and club events.
In the spring of 2008 Brian took on many club projects; including a complete upgrade dcroadrunners.org, giving the site a new front-end look, as well as a new collaboration and financial processing back-end. Additionally, Brian restructured club operations with the purchase of a chip timing system, and new van, all leading to the creation of DCRR's race management services department.
Brian is a Rosslyn resident, and can often be found running on the Custis and Mount Vernon Trails, or completing loops on shady Roosevelt Island.
Deborah Margraff, Membership Director
Deborah joined DCRRC in 1996 when she moved to Reston VA and served on the board for two years. Participation lapsed while raising kids but she reconnected with the club after moving to Arlington in 2013.
Following a very nonathletic upbringing Deborah found herself in her last semester at Penn State needing a PE credit to graduate. She signed up for "jogging" and the rest is history. Deborah has completed 30 marathons, including 3 Bostons, 35 sprint or Olympic triathlons, and countless races at other distances. Due to arthritis in both knees her running is now better described as extremely aggressive walking.
Deborah works as a software engineer and enjoys swimming, cycling, cooking, film, art and cultural events, volunteering with local political organizations and spending time with her 3 adult children.
Mike Tosto, Director for Training Initiatives
Mike ran his first few 5Ks at 10 years old with his dad, but didn't pick up the running bug again until grad school. After running the 2008 Marine Corps Marathon based on solo training, Mike joined DC Road Runners in 2011 for some company on long runs while training for his second marathon, which led to marathons 3 through 8 in the following years. Mike is currently the club's Saturday Long Run (SLR) leader, and is also a regular at weekly Monday night tempo runs.
Mike is a lifelong Virginian, from Charlottesville, to Newport News, to Arlington, to Springfield. His favorite annual race is the Charlottesville Ten Miler, which he returns to every year whenever possible. Mike works as a mechanical engineer on design and analysis of aerospace structures.
Jonny Pellish, VP of Training
Jonny joined DCRRC in the spring of 2012. He is a regular during the fall and spring training programs and has been coaching as part of the half and full marathon training programs since he received his Road Runners Club of America (RRCA) Level I certification in the spring of 2014.
Jonny grew up in West Virginia and lived in Nashville, TN before he moved to Washington, DC in the fall of 2008. While he was active in club sports while in college, he didn't discover his love of running until his wife Claire threw down a Couch-to-5K challenge in early 2012. Since that time, Jonny has run numerous races from 5K through the marathon.
Jonny and Claire enjoy vacation adventures, usually centered around running, exploring, and eating. They are currently on a quest to tackle a bucket list of National Parks in the lower-48 -- combined with running whenever possible. Jonny works for NASA and spends most of his time at the Goddard Space Flight Center (Greenbelt, MD) in the Electrical Engineering Division. Outside of Vanderbilt University sports, he is an avid Nats fan and is always scheming for the next batch of beer to brew.
Bas Auer, Volunteer Coordinator