Capital Crescent / Rock Creek Loop

This is a 22.5-miler out the Capital Crescent Trail and back through Rock Creek Park.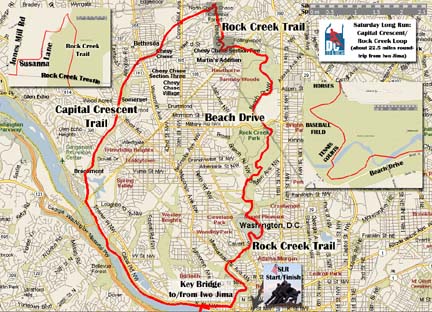 See larger version of course map.

Begin at Iwo Jima. Go through Rosslyn and across Key Bridge
Take a sharp right thru Key Park after Key Bridge down to river side of C&O Canal
Left on C&O Towpath and QUICK right down steps to Water St.
Right on Water St. to trailhead of Capital Crescent Trail
3.5 miles out: Fletcher's Boathouse, water and restrooms
5 miles out: Capital Crescent Trail mile marker 6.5 (water fountain)
8 miles out: mile marker 3.5. This is at Barnes & Noble. Water fountain on left.
Then go through tunnel through Bethesda
After tunnel, trail becomes gravel and is called the Georgetown Branch Trail.
10 miles out: marker 1.5
1/4 mile past mile marker 1.5, go LEFT on Jones Mill Rd, then QUICK RIGHT on Susanna Lane.
At end of Susanna turn RIGHT on bike path, and go RIGHT at the T at the bottom of the hill onto Rock Creek Trail bike path.
Go 1/2 mile to East-West Highway. ALONG HERE IS A BATHROOM ON THE LEFT AND A WATER FOUNTAIN - HALFWAY!
Go STRAIGHT across East-West Highway, and follow trail past horse stables, ball fields, and tennis courts.
Continue following signs for Rock Creek Trail to DC.
The trail ends at the Maryland/DC border where trail joins Beach Drive.
Go through closed vehicular gate onto Beach Drive (closed to automobile traffic on weekends!)
After 3 miles on Beach Drive, pass Ranger Station on left.
After 2 miles after Ranger Station, there will be a "T" road intersection.
At this point continue STRAIGHT, run through parking lot, and get on Rock Creek bike trail at other end.
The trail will quickly go by Peirce Mill then 1 mile later the Zoo.
3 miles past the Zoo, just after Pennsylvania Ave., turn right onto the beginning of the C&O Canal
After 1 mile on the C&O, go up ramp to Key Bridge and return to Iwo Jima.
Water opportunities:
- 5 miles out: on Capital Crescent, MM 6.5
- 8 miles out: on Capital Crescent, just past MM 3.5
- 11 miles out: on trail after Susanna Rd and before Beach Dr.
- 14 miles out: Ranger Station (maybe across street, maybe inside station)
- 16 miles out: Peirce Mill (right next to the trail)
- 17 miles out: Zoo entrance (50 feet into Zoo from Rock Creek Trail)
- 20 miles out: Near beginning of C&O Canal Towpath